A GLOBAL REVEAL & CHOOSING REAL - My relationship with social media
We live in a time where we are daily bombarded, welcomed, lured and invited into the homes, thoughts, meals, adventures, activities, over-shares, under-dressed lives of everyone and anyone across planet earth. You can be looking at a little square box that sees you scoping the Swedish alps where the pine trees see no end and one scroll later you're in some girls perfectly groomed room, flawless make-up, hair like a Pantene add and apparently she just "woke up like this".
It's a GREAT, creative and wondrous time to be alive, yet a terrifying time to be in the midst of a identity crisis. Maybe right now you yourself are struggling with self worth, you continuously compare yourself to the perfect images bombarding your screen through social media - Maybe you're in a real life battle that has you on a up hill terrain trek in search of that beautiful everest peak where you are free and at one in the beautiful skin you were destined to be in. --- Or maybe you are on the other side of the terrain and you have been called to be voice of clarity, purpose & hope amongst the clanging cymbals of today's full force social media vortex. Wherever you are in this crazy hurricane called life, I pray these words spur purpose and give you a catapult forward into the oasis of freedom that God has ordained for your life.
The stats: The number of girls who say social networks make them feel unworthy and that it instigates within them a low self esteem doubles between the age of 13 to 18, with 60% of university age students admitting it negatively affects their confidence. The research also shows social media is also used by girls for self-validation, creating a culture of chasing 'likes' to feel attractive. The majority of girls aged 18-23 stated that they would avoid posting photos of themselves on-line if they didn't feel comfortable with their appearance, taking an average of 12 minutes to prepare for a single selfie. The consequence is that their presence on social media becomes so carefully constructed that it no longer represents the reality of their actual lives.
OH THE PRESSURE.
There is no way to achieve this paramount ideal of perfection, it's the unattainable dream - We all wake up with sleep in our eyes and hideous bed hair! Our sense of what's real and what's possible when it comes to beauty has become so warped by this flood of carefully orchestrated imagery that it's hard to seek out what beauty really is? The images we see every day unfortunately are playing a strong role in shaping the definition of beauty, so what happens when most of them are staged, filtered and carefully chosen.
Hi, My name is Tess... And this is my relationship with social media.
I remember the very first picture I ever posted on Instagram, it was a photo of the light on my bedroom ceiling. I was in my second year of design school and Instagram was on the underground, apps had only just greeted the world and the IPhone was in high demand. I remember hearing about this on-line photo gallery via a fellow design student, he informed me that it allowed you to network with other creatives across the globe and share muse-fying imagery. With a love for networking (the good old analogue way) and all things visual I was sold immediately. After a bit of dabbling inside the app I joyously discovered that I could follow other designers that were living in New York, LA and London --- At this point in my life I was living in a small surf town with a population of 20,000, the discovery of this app was a curious treat to have the opportunity to watch the happenings of international designers as they shared their creative projects in front of my eyes on the daily (Maybe creativity was originally what social media was intended for?)
Maybe some of you were late to the game?? You joined this social networking phenomena a year or two too late? You downloaded facebook/twitter/instagram only to scroll and be inundated with a zillion posts of girls flashing their lady bits and showcasing their very busy, full and important lives. It's overwhelming and often just a big blanket of white noise.
The daily on-line traffic we are faced with is loud and it's only getting louder. There is more junk then ever before, more visual reasons to compare ourselves, better ourselves, feel like we are failing, feel the need to coat our faces with make-up and pine for material things... It's an overwhelming jumble of voices, visuals and somewhat lies.
Whether you are a sharer or comparer - I guess we all need to ask ourselves the right kind of questions when it comes to social media and the role it is playing in our lives? What is it's purpose for me? Why do I share photos of myself half naked? Is social media filling something in me that maybe only God should be filling? Is this coming from a place of insecurity. Why do likes matter to me? Who am I trying to impress? Why am I trying to portray this facade? Ask yourself some real questions and get to the core.
I have to ask myself these questions all the time, I often end up on the unbalanced side in my approach to social media... My career as a designer/visual communicator/brand developer has me living 9-5pm in cyber space and because of this I have become very well acquainted with social media. The way I converse and engage with new clients is via social media... the way I showcase work is through social media... the way I get more work is through social media, 90% of my clientele comes through social media... For me it is a daily part of my morning to-do list with two purposes --- 1. A tool to circulate work and run an on-line freelance business. 2. A platform to share thoughts, create beautiful imagery for the eyes of the earth and to connect/keep in touch with like-minded people.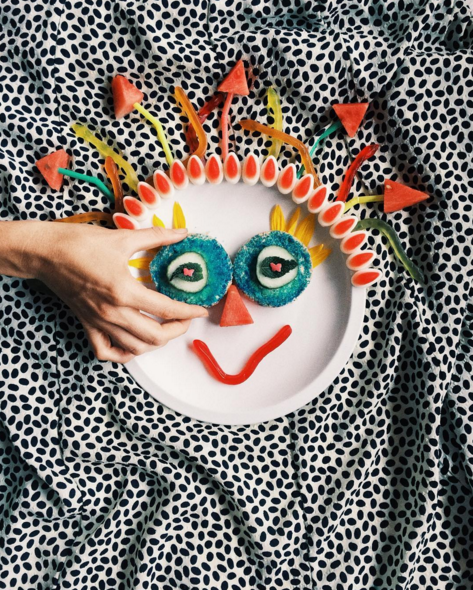 Lately and often I have been getting emails from impressionable young girls, mums and creatives asking me questions like "Were you ever self conscious when it came to creativity", "Do you think studying design would be a good career move for me?", "I love your passion for life, what inspires you" "What the heck should I do with my life?" "How do you do the motherhood juggle?"--- All these questions are an open door to speak some true, honest, exuberant, LIFE!!!!! By no means am I'm saying that I'm this wonderful person who has confidence to boot and all the answers, But I'd like to think that maybe, just maybe I could be a light in the social media vortex of crazy business! --- People just want to relate, they want to know someone has walked before them, they want answers and they want a voice that comes from a place of victory. They want to know that they too "can do it" and they want to know that healthy relationships/marriages do actually exist. All over the world people are craving LIFE! They want real, they want everlasting joy, they want to discover beauty and they themselves are trying to figure out exactly who the heck they are called to be!
Do I strategies my social media? Absolutely. We all do, but what is undergirding our message?
How do we do this and KEEP IT REAL? Choose content carefully --- Have wisdom, live life with passion, be a cheerleader of others, live a life that shouts BEAUTIFUL! Share out of a place of VICTORY, be a voice of hope on these platforms and keep naked skin under some clothes. There are so many deceiving voices educating us young and old --- We can be afraid of social media, we can think it's lame, a waste of time, we can idolise it or we can hide from it. For some of you maybe it's not for you but that doesn't exempt the fact that it still exists. Social media is currently the no.1 voice to the next generation, it's loud and it's where they are most learning about life (how scary). Even if you are not a participator, the scroll will continue and the voices will continue to speak, This is our now.
You are likely in one of 2 places ---
Maybe you know who you are in God, your comfy in your stretch marked skin, you know what God has called you to and you know the words he has asked you to speak... If this is you and you can scroll without the horrible comparison games --- Then you need to continue being that voice of hope over the blurred channels of counterfeit confidence... These platforms will be overshadowed by darkness if you stoop back and keep quiet. Seek out what this means for you and use wisdom. In our approach to being a positive voice, be authentic. Let the holy spirit prompt you and your approaches to how you share your world in a genuine life bringing way. Check in every now and then and reassess your motives. Don't contribute to the mess on-line, contribute above the mess and have a break from it very often.
Or...
... Maybe you're a silent participator or use social media to channel a self confidence boost, you do the scroll and you hate yourself when you see the perfectly manicured imagery or you measure yourself on the amount of likes your latest selfie gets... For you, take a break, delete the apps, engage in things that make you come alive, have conversations with people that draw out your most wondrous and beautiful traits. Find confidence in the creator who has called you by name, find the purpose that was hand crafted and created personally for you to embellish and wear like a rainbow sequin jacket.
Remember, You are the boss of social media - follow Gods example and make it 'good'. Create with dignity. God didn't create a fake garden but a real one with temptations and dangers along with glories and delights. If the entity of Social Media has climbed out of its little purpose built box and is looming large and pushing your dancing feet into submission through expectation - it is no longer healthy and it's time to get off-line.
Vulnerability is sacred and wonderful. A complete gift. Whether that be the vivacious curves of the female form or the delicate whispers of the human heart. Let's not exploit ourselves unnecessarily.
All said, social media has given away a global human secret, it has given away a side passage into the secrets of the human heart revealing that every man and woman wants to feel valued, worthy & most importantly LOVED. Let's LOVE loudly & CHOOSE REAL on every platform of life.
Tess
xo
Tess Guinery
Visual Communicator + Graphic Designer.
Location: Currently on the GC.
Married to a Stuntman, Mumma to Peaches Wilde.
Design acc
Tessguinery.co / @tessguinery / @tessguinerydesign